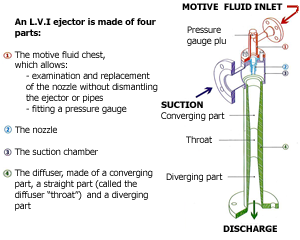 Ejector principle
The ejectors are static devices in which the energy provided by the release of pressurized fluid (steam, gas, liquid ....) can:
Aspire, compress or mix fluids
Put vacuum or pressurized enclosures
Transfer fluids, powders or sludge
Transfer of heat
According to the features described above, Ejectors carry different names: Thermocompressors, eductors, mixers, heaters, ejectoventilator, ejector, scrubber, hydroejectors ...
Benefits
CUSTOM DESIGN AND MANUFACTURING: Thank to our resources which have been validated by thousands of achievements, we provide well sized ejectors for each specific application, ensuring optimum performance (and security) at competitive prices
HIGH PERFORMANCE: The specific profiles of our ejectors guarantee maximum efficiency for a reduced operating cost.
EXCEPTIONAL RELIABILITY: due to the lack of moving parts, no breakdowns, no decrease in performance, a low maintenance cost.
WIDE RANGE OF RATES: An unlimited suction capacity (our most important achievement: 1 400 000 m3/h).
WIDE RANGE OF PRESSURE: Our ejectors can also be used to make a vacuum within a chamber (up to 10 -2 mbar abs.) or use as compressors for several dozens of bars.

CORROSION RESISTANCE: Ability to aspirate any fluids, even abrasive or corrosive thanks to the diversity of building materials that we offer.
ABILITY TO USE THE GAS METHOD AS WORKING FLUID, which remove significant pollutions
Our ejector manufacturing is defined by our customers' needs:
Materials: All materials can be used. Among the most common steel, carbon, stainless steels (304L, 316L ...), Special Alloys (Uranus, Monel, Hastelloy ...), graphite, plastics (PVC, PPH, PVDF, PTFE ...)
Codes and design guidelines: LVI's standard, CODETI, CODAP, ASME VIII, AD-MERKBLATTER, Normes CE, TEMA, DESP...
Connection: On demand, flanges (as ISO, DIN or ANSI), threaded connections, threaded or welded.
Examples of application