Liquid ring pump principle
A liquid ring pump is a rotating machine that uses a liquid in order to ensure sealing between stator and rotor. Both are generally eccentric (impeller). The inlet gas, between two blades of the wheel, is compressed during the rotation of the wheel; the volume, between two vanes, is reduced because of the eccentricity of the wheel or stator form.
The obtained vacuum is limited by the vapor pressure of the liquid within the ring.
The pump delivers the pumped gas / Liquid ring in a gas / liquid separator.
Our vacuum specialisties are also extended in the engineering of liquid ring pumps sets with reduced releases and / or vacuum level and enhanced capacity with air ejectors or "boost steam."
PAL with closed ring
PAL in closed ring pump includes a liquid ring pump, a separator tank and a heat exchanger. These pumping units allow to reduce up to eliminate wastes of the liquid ring.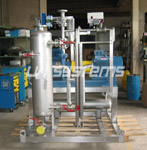 Closed ring pump with double mechanical seals. 250 m3/h of gas containing acetone and maleic anhydride under 50mbar abs. Water Cooling of the liquid ring by 5°C.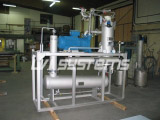 Liquid ring pump in closed ring with a decanter for separate solvents pumped from the water of the ring and air ejector. 115 m3/h of gas containing solvents within 10mBar abs.Water cooling with brine at 5°C.
ECOVAC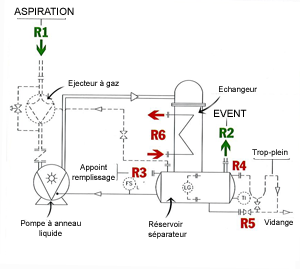 We have developed a range of liquid ring pumps without pollution; the closed circuit ensure the cooling of the liquid ring as well as the vent gas then reducing emissions of uncondensed steam in the atmosphere.
Description
The suction gases and vapors are compressed by the liquid ring pump to the atmospheric pressure. Mixed with the liquid ring, gases and vapors are cooled (the vapors are condensed) in a heat exchanger.
The Condensates and liquid ring are recovered by gravity in a separator drum and taken up by the liquid ring pump, while saturated noncondensable are evacuated by the vent.
Then, the residual steam amounts, released to the vent, only depend on the cooling temperature level choice.
Example: the amount of residual toluene steam escaping to the atmosphere is at 20 ° C, 0.1 kg / h for 1kg of dry air. A - 10 ° C, this amount would be reduced to 0.014 kg / h.
Benefits
Ability to use a liquid ring of the same nature of the working gases (toluene, ethylbenzene ...)
Operating liquid ring pump to the atmospheric pressure without recirculation pump
Recovery of solvents and alcohols in liquid form
Adjustable to all brands (on customer request)
Operating reliability
Easy to maintain
Small footprint
Ready to connect
Options(dotted line on block diagram)
- Air ejector on suction event to achieve a higher vacuum (up to 2,5 mbar abs).
- ROOTS type depressant or upstream steam ejector to achieve a higher suction capacity (up to 5000 m
3
/h) and an higher vacuum (up to 0,2 mbar abs). - see technical sheet
VAPYDRO

- Measurement and Security instrumentation
- Check valve with no losses on the suction
- Device for hydraulic seal on the overflow
- Ejector air bypass by valve
- Condenser and / or carbon filter on vent
Examples of réalizations