13 Jan 2014 - GEA Energietechnik trusts a new time in LVI SYSTEMS products and services
LVI' SYSTEMS receives new orders by GEA Energietechnik for a thermal power plant located in IRAQI KURDISTAN.

These orders are for the same vacuum groups than those delivered in June 2013. It shows that GEA Energietechnik trusts in the motivation and professionalism of the LVI' SYSTEMS teams. We aim to develop continuously our close relationships with our customers such as GEA Energietechnik by delivering efficient and high level quality products.

14 Oct 2013 - LVI' SYSTEMS pursues its customers' success
After a first successful project, LVI' SYSTEMS strengthens its presence in Iraqi Kurdistan by providing new industrial vacuum equipment for GEA Energietechnik

01 Sept 2013 - Internal LVI' SYSTEMS job promotion
Mr David JAY, in charge of sizing LVI' SYSTEMS equipments since 10 years, is promoted as a Sales Director upon Mr Joseph FAURE retirement. We wish him much success in his new role.

30 Juin 2013 - LVI' SYSTEMS strengthens its worldwide position !
LVI' SYSTEMS
delivers 2 vacuum groups at GEA Energietechnik in Germany for a thermal power plant located in Iraqi Kurdistan. With a high capacity of 4100 M3 / h under 45 mbar abs sucked gas, these vacuum groups are among the largest and most sophisticated ever built by
LVI' SYSTEMS
for solutions in thermal power plant.
After two years of development,
LVI' SYSTEMS
has earned the trust of German GEA Energietechnik an important group in many industry sectors which are particularly energy.

15 Oct 2012 - LVI' SYSTEMS strengthens its position in the Energy area
A global GEA german company entrusts LVI' SYSTEMS to design, develop and deliver 2 condensers' vaccum groups for turbines.

27 Jan 2012 - Welcome to the new LVI'SYSTEMS internet website
The LVI' SYSTEMS website gets a makeover. New look and feel, new navigation, new tools, you can find out and discover the company through more references and products on industrial vacuum applications.
Please send us your comments and questions by mail: lvi@levideindustriel.com

03 Fev 2010 - LVI 'SYSTEMS provides one of the largest industrial vacuum system in the world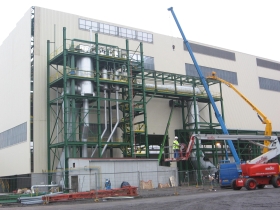 LVI'SYSTEMS has been ordered for an industrial vacuum system for degasing steel in January 2009. The expected delivery in December 2009 has been fully respected. The facility, located in the center of France, was inaugurated today on the Arcelor Mittal's industrial site with leaders of the project and local authorities. This turnkey solution will issue 1.400.000 m3/h under 0,1 mbar abs. LVI'SYSTEMS has also provided all utilities such as:
The structure supports
The vacuum tank, its coverlet and accessories
The innovative connection between the vacuum tank and group.
The steam delivery, cooling water (including pumps' room) and nitrogen
The power panel and control room